Your stay on the Zeven Wouden



Port of departure: Stavoren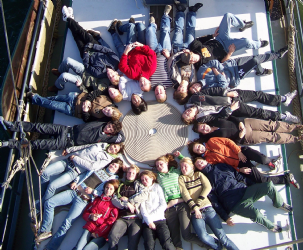 Sailing on the Zeven Wouden
Skipper Janine has a preference for the Wadden Sea. From Lemmer or Stavoren you can sail to Vlieland during a week trip in suitable weather conditions. Janine knows the island very well, she is happy to show you the most beautiful places on the island. But of course a sailing trip to Texel or Terschelling is also possible. Ameland and Schiermonnikoog can only be reached in ideal weather and especially tidal conditions.

On the IJsselmeer, Janine is happy to show you the picturesque towns on the Frisian and West Frisian coasts, such as Enkhuizen, Medemblik, Workum, Makkum and Urk.

During a weekend trip the Zeven Wouden mainly sails on the IJsselmeer and on the Frisian lakes.
The ship has many additional sails, all of which are put in suitable weather conditions. The entire group is often required to set sails and bring the ship on course. All under the guidance of an experienced crew. Within a day, Janine transformed the group into a well-oiled team!
The crew on the Zeven Wouden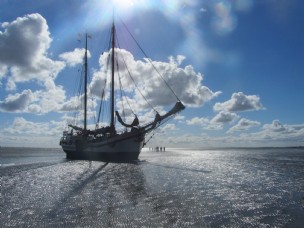 Janine is an experienced skipper who is happy to show her guests around, both on board, when sailing and also on land. In every port she can point out to her guests the nicest tourist attractions and she knows the best terraces and restaurants.

Moreover, Janine is an enthusiastic hobby cook. If you no longer feel like preparing a meal on arrival, ask about the options. In addition to our normal catering list, she offers you an evening meal or a delicious meal soup. You will be completely relieved!

Ship dog Fedde is part of the regular crew of the Zeven Wouden.
Layout

The Zeven Wouden - an elegant two-mast clipper - has a cosy, light salon. Along the walls are long couches with cushions. Here you will find two large, long tables that can be used separately. But you can also slide these tables together, so that there is one large table. In addition, there is a so-called dinette in the salon, a fixed table with a fixed sofa on both sides. So you will always find a place in the salon for a pleasant conversation, a board game or just to sit quietly and read a book.

The galley (ship's kitchen) is fully equipped and invites you to prepare a meal. From the kitchen you have direct contact with the people in the salon.
Opposite the kitchen there is enough storage space for food.

The five four-person cabins and two double cabins have a washbasin. The beds are all equipped with a bottom sheet and a pillow with pillowcase.
There is one toilet and one toilet - shower combination in the hallway.

Facilities in the Zeven Wouden
History Zeven Wouden
In 2019 the Zeven Wouden of owner and captain Janine de Jong was exactly 120 years old. In her first sixty years this two-masted clipper sailed the Zeeland waters primarily with coal from Germany and loose cement. That is why this ship has the Roosendaal dimensions, because the Zeven Wouden had to pass through the locks in Roosendaal. Until about twenty-five years ago the ship had no sails, but she has now been restored to her original state.

The Zeven Wouden is an elegant ship with many auxiliary sails, with much care spent on her interior and exterior. Moreover, the guests are in good hands with Janine because as a hostess she is very involved with her passengers.