Summer weekend - Zeven Wouden
Cruise overview
Sailingarea
Waddenzee | Wattenmeer | Wadden Sea
Embarkation
25-6-2021
20:00
Stavoren
Debarkation
29-6-2021
16:00
Stavoren
Costs
310,00
Capacity
20
Currently 12 available!
availability subject to change
Complete reservation
A long weekend with the Zeven Wouden sailing on the IJsselmeer and the Wadden Sea. Enjoy our commonly prepared meals and the cozy atmosphere on board.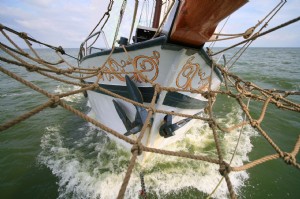 Falling dry on the Wadden Sea (in suitable weather conditions) or active sailing on the IJsselmeer. You are outside all day and enjoy panoramic views, typical Dutch skies and cosiness on board. Welcome aboard the Zeven Wouden!
On Friday evening around 20:00 you can embark at the Zeven Wouden in Stavoren. After you have been assigned your cabin and put your belongings down, you can meet your fellow travelers. Janine will also discuss plans for the coming days with the group.

The next day (Saturday), after a delicious breakfast, the ropes are cast off and the journey begins. We will moor in a port around 4:00 PM (depending on wind and weather). It is possible to take a city walk before and after dinner. Or you can enjoy the company and the cozy atmosphere on board.

The following days also proceed according to this program: sailing during the day and enjoying delicious meals, pleasant company and conviviality in the afternoon and evening.
On Tuesday afternoon you will be back in Stavoren, where the journey ends.
The daily programm depends on the wind- and weatherconditions. The captain will consult the guests and determines the planning. There's a little adventure involved!
Price per person
| | |
| --- | --- |
| Shared cabin | EUR 310,00 |
| Children up to 12 yrs | EUR 195,00 |
| Bedding | EUR 16,00 |
| Bedding and towels | EUR 21,00 |
Included
Ship accommodation in a shared cabin
Meals on board, coffee and tea
Harbour dues and fuel costs
Not included
Beverages (available on board, will be charged)
Bedding and towels
Transfer to and from the ship
Travel insurance
Personal expenses
If you make a reservation with the form below, it is still preliminary. We will contact you and inform you about the available cabins. Please let us know if you want to participate on the tour and we will send you the agreement. After you signed the agreement within 5 days your booking is official.
Complete reservation
Click here how we manage your personal data